Props
Environments
Fantasy
Organic
Unreal Engine 4
Plants
Exterior Decoration
PBR
Nature
Game ready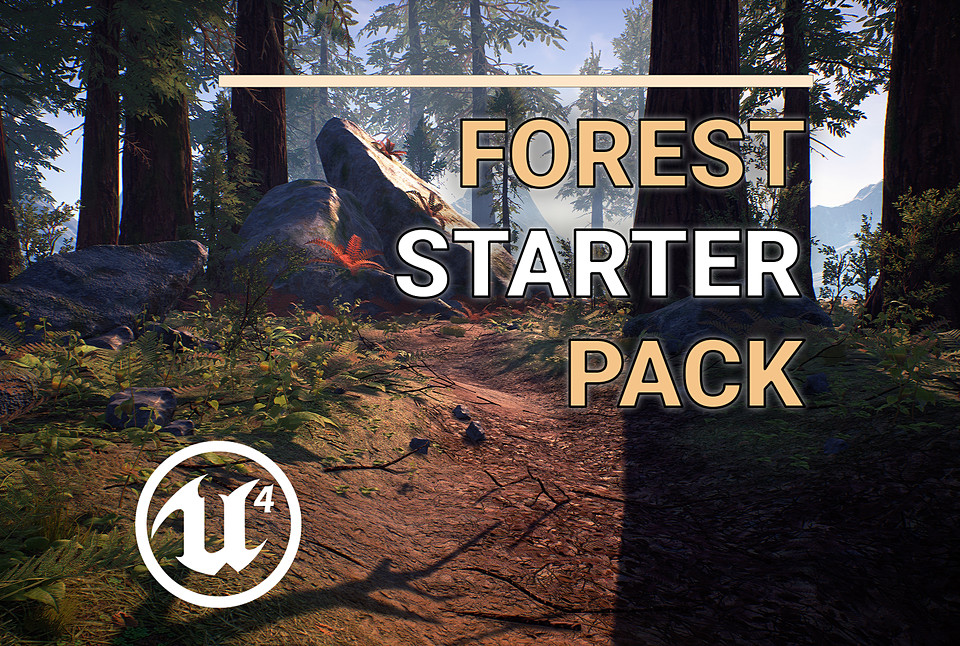 $20.0
Unreal Engine - Forest Starter Pack
Overview Video: https://youtu.be/88qA-X5kOsQ
Have you ever wanted to create your own foliage assets from scratch but you realized that you didn't have a chance to spend enough time on it? This forest pack will help you to speed up the process of adding foliage to your environments.
It includes over 40 different types of assets like trees, plants, rocks, and ground textures that you can use right away.
If you are looking to populate your environments and take them to the next level, this pack was made just for your needs.
Technical Details
Features
6 Master Materials: Basic/Complex Props, Foliage, Landscape, and LODs.
11 Material Functions: Different material functions for changing Albedo Color, Normal intensity, Roughness, Tiling, adding Detail Normals, Vertex painting with Z-Up direction, and much more.
Highly Customizable: Several material instances with exposed parameters to get the most out of them. Tweak the look of each asset easily and swap the textures based on your needs. Additionally, Trees and Rocks can have snow/moss on top and blend between them using Height/Masks textures with vertex painting.
Performance: Textures are packed into RDA channel masks. Foliage and trees were optimized as much as possible to reduce overdraw (minimal opacity) and to keep the poly count low. Assets have material/mesh LODs + Tree billboards, simple collisions, and wind effects.
Bonus Assets: Texture masks, Detail Normals, Heightmap textures and LUTs.
High-Quality Ground Textures
Assets Overview scene
Demo scene
Compatible with UE Version 4.22+
Physically-Based Rendering: Yes
Texture Resolutions: up to 2048x2048
Collision: Yes, Automatically Generated and Custom
Vertex Count: from 12 to 20,473 tris. Please check the documentation below for more information.
LODs: Yes, 2-3 per asset
Number of Meshes: 42
Number of Master Materials: 6
Number of Material Instances: 41 (36 Material Instances, 3 Ground Material Examples, 2 Post Process Materials)
Number of Material Functions: 11
Number of Textures: 81
Supported Development Platforms: Windows
Supported Target Build Platforms: Windows, Xbox One, PS4
Documentation: [Additional Information/Overview Asset Details]
Important/Additional Notes: If you have any questions, please don't hesitate to contact me at [email protected]
You can also find me on my social media listed below:
---
Linkedin: https://www.linkedin.com/in/alexandercz
Instagram: https://www.instagram.com/alexanderczart
Twitter: https://twitter.com/alexanderczart
Facebook: https://www.facebook.com/alexczart
---
License info
By purchasing this product, you agree with our terms and conditions.
Personal and Commercial Licenses are available. Personal licenses do NOT apply to companies or organizations. Sharing, streaming, and redistribution to third-party is strictly prohibited. This Product is not allowed to be redistributed or re-sold in any way. Digital products are non-refundable.
You will get 1 file
All files previously purchased will always be available for download in your Library