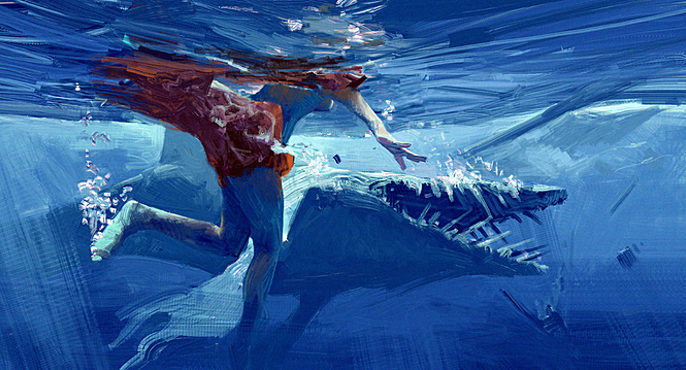 A Day in the Life: A Digital Painting Instructor
Victor Hugo Harmatiuk has been working with digital arts for 6 years. He's currently using his experience to teach and has developed quite a following. We wanted to see what his normal day looks like so here is A Day in the Life of a Digital Painting Instructor.

---
One thing I think helped me the most on the process of learning to paint was experimentation. I've always liked to try new brushes, new tools, new processes and workflows but I also strongly believe that not only painting related stuff improves our painting skills. Here are some things I usually do and are not directly related to painting that I think helps me a lot.
Listening to music- researching new songs to listen is one of my favorite things to do. I can't tell you how many times a painting scene or design idea came from listening to a new song. I like every kind of music and, as my painting tools, I usually experiment new styles all the time. I usually research music related to the songs I like and what other things those musicians have done that I can try. Those music endeavors took me to strange music scenes that I ended up liking, like traditional Mongolian songs and throat singing.
Real life observation- When I go to the market to buy stuff for home or when I go running I like to make a lot of observations on how things are and what makes them interesting visually. We can observe things through an aesthetic point of view or through a more scientific one. By aesthetic I mean looking at the shapes and their proportions, the colors, composition, texture and so on. And by the scientific point of view I mean to observe how light is working there, where that color came from, what causes this bounce light, what is the material like and so on.
Other stuff I do almost everyday:
Go running
Sketching at least 2 hours a day.
Shave my cats.
Pet my cats.
Watch my cats do stuff.
Clean cat sandbox of poop.
Play Magic The Gathering.
Watch some series.
Shower.
Teach digital painting.
Vacuum my house.
Wash dishes.
Put clothes to dry outside.
Do some freelance when there are some to do.
Call my sister.
Me and my girlfriend also do some handmade wood furniture for the house.
Brushing teeth is also very important.
---
Can you explain what lead you to become an instructor?
In Brazil information and knowledge about digital arts were very few by the time I already had some experience. The demand for instructors is what made me follow this path and, after some time, I've also discovered a true passion for teaching.
When creating an outline for teaching what is your process?
Since I was not the most theoretical and literate kind of learner, I usually like to try and remember what kind of exercises and observations taught me the subject I'm trying to convey. Then I make my students go through the same process, getting hopefully the same insights.
What is the most important thing when learning digital painting?
For me, it's never forgetting why you have started to paint and that is usually to have fun transmitting your own stories and ideas. The main tool I use to learn is to experiment with every tool and workflow I can- from Photoshop tools to 3D softwares, those experimentations always keep me hyped to learn and teach me things about design and techniques I would never get in my head another way.
Where do you see yourself in 5 years?
It's hard to tell, actually I would like to be working for movies more than for games, in 5 years I would like to have a foot in movie productions for sure.
What is your ultimate professional goal?
I would really like to work for a triple A movie as a keyframe artist. It's a long way to go and I have a lot to learn but that would be a milestone for me.

---
Follow Victor here: