Abandon Ship- Developing a Game from Concept to Execution
Abandon Ship is a single player PC game created by a small team of people that wanted to create something that they could play in their own time. As a player, you take command of a ship and explore- confronted with random events as you go. Brain child of Gary Burchell, he takes us through the process from concept to game execution.
Let's start at the beginning- Where did the idea of Abandon Ship come from?
Much like everyone else, I've always wanted to create my own games. It wasn't until I'd been working in the industry for about 13 years that I felt the time was right to take the plunge and actually do it. I guess it took me so long because my career started in 2002, so back then you had to very much rely on publishers and retail – digital sales weren't available. It wasn't until late 2015 that I felt in a position that I could actually make a success of it.

When it came to the idea, I adore the age of sail period, and lived close to a historic dockyard. In fact, my previous job was a 5 minute walk from HMS Victory! I've always loved the crew management aspect of FTL, and felt that this, combined with the time-period inspiration was a really attractive mix. The idea certainly expanded from there!
With a big project like that, where do you start? What does the team look like?
You need to have a really clear idea about what the game is trying to achieve. It helps to boil this down into a set of "Core Pillars" that embody the game and prove why your game is special and other people will be interested.
While these ideas were being solidified, we started some simple in-engine prototypes to start to prove out some of our early thoughts.
At that stage, it was just myself (acting as designer) and a programmer. It wasn't until we wanted to develop the art style that we brought on artists.
Can you explain the artists involved and their impact on the creation of the game?
Close to the start we had some concept art from Amanda Ho, but we primarily had two artists on Abandon Ship: Alex Shapland, who did all of the modeling, GUI, Concept and Animation work – and Aaron Miller, who did all of our Visual Effects.
We wanted to try a unique art style for Abandon Ship, and Alex has a strong background in oil painting. She did a crucial job in helping us establish the style, and has created nearly all the content in the game, which is an incredible accomplishment!
Aaron has a great combination of artistic and technical experience and not only made the game suitably explosive, but also helped realize the style with lighting and water effects, amongst other things. Aaron is basically a wizard, and can pretty much make anything a reality.
With such a small team, everyone was absolutely vital in creating the vision.
What were the biggest hurdles at the beginning and how did you overcome them?
Artistically speaking, we knew we had to grab people's attention because there are a lot of distractions out there. We knew that having an iconic art style would help accomplish that.
I've always loved classic naval oil paintings, and felt that this was a great tonal and thematic fit for us. We couldn't find any games examples that had a similar art style, and executing this in the engine was exceptionally challenging. It really was a collaborative effort from Aaron, Alex and our team programmer Adam to achieve what they did.
We'd take screenshots, do paint-overs, and then look to replicate those paint-overs in the engine, repeating the process as necessary. We had to really drill down into the art style and understand the techniques used, from the use of contrast, vignettes, impasto, color, focal areas and lighting, right the way through to how brush-strokes were used to replicate a sense of motion, which was particularly crucial with rough seas.
When you bring in new artists to the team, what are you looking for?
They obviously need to have the skills required to accomplish the role they are hired for, but with such a small team it's really important that they will fit in with the team dynamic.
Similarly, being a small team means we need everyone to contribute, so we pride ourselves on working in efficient and sensible ways that minimize wastage.
Do you typically hire outsource studios/freelancers or do you tend to keep everything in-house? Why?
At the moment, the needs of the company are very specific. So we bring on freelancers as and when we need them. In some cases, that might be a long-term contract, in others it might be more ad-hoc.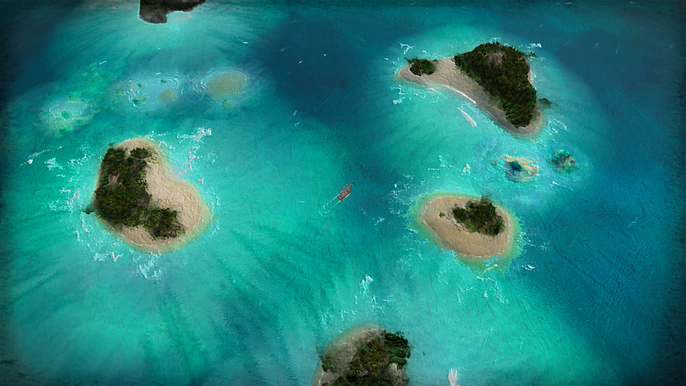 When it comes to hiring full-time employees, what do you tend to look for the most in terms of artistic and personal qualities?
We look at freelancers in the same way we would full-time employees – they are part of the team and their contributions are vital. Sometimes that is suited to the individual of course – some freelancers like working for multiple projects at once, whereas others want to stay and grow with a company, and we're respectful of both approaches.
What would you say is the most important piece of the puzzle that is 'Abandon Ship?'
We've tried to make everything gel together; the art style, the game mechanics – and crucially, for such a small team we've created a really big, deep game. We wouldn't have been able to do this – and thus compete with studios much larger than ours, if it wasn't for a group of talented people working in a sensible and efficient manner.
Where do you see the game/team in 5 years?
We really want to keep this team together, and expand in sensible ways – slow and steady. We don't want the success we've had result in hiring loads of people and losing our studio values.
In 5 years time, we'll hopefully have released our second title, or be into development on our third.
Any advice for ambitious artists out there?
The market is saturated, so what is it about you that makes you stand out from the crowd? If you have a lot of experience and bags of talent, that should speak for itself – but what if you're a junior, or a graduate looking for their first position? For those in that position, I'd make sure you have a really strong portfolio. If you don't have experience, demonstrate that you are truly dedicated by making a professional collection of work you can show – and be intelligent about it – a lot of people can create nice assets, but how does that apply to the game industry?
Does your concept art include t-poses, and other things useful for character artists creating characters from your work?
If it's environmental concept art, don't just show mood pieces, but also paint-overs of grey boxes.
If it's modelling, demonstrate you've built things to a poly budget – a very real restriction for artists in the industry.
If it's animation, don't just show lovely Pixar-style animation, but also super-snappy game anims for attacks, and other anims considering player-responsive input.
Sometimes, showing your workings and thought-process behind your portfolio can be just as important as the final result.
---
Find updates for Abandon Ship and more here:
Here is a sneak peak at the Halloween update for Abandon Ship!