Advice from a Disney Animator
Daniel was an animator for the Walt Disney Company for 9 years; 3 years at Pixar Animation Studios (Up, Toy story 3, Cars 2) and 6 years at The Disney Animation Studios (Wreck-It-Ralph, Frozen, Big Hero 6, Zootopia, Moana). He's had the opportunity to hone his skills in various aspects of storytelling including animation, direction, storyboarding, screenwriting, concept and character design. He's used his leadership and communication on multiple globally successful projects to bring ideas from concept to completion. In addition, he has been a professor for art and animation for the last 6 years (UCLA, California Institute of the Arts) and has held master class workshops through out the world (Australia, Lebanon, Mexico, Finland, etc).
Born in 1988, Daniel moved from his hometown in San Diego, California to attend San Francisco's California College of the Art. Daniel received attention for his artwork at an early age. His entrée's in the Museum of Latin American art and The U.S. District court for the southern District of California, that are still on display, would be the start of a promising career of fine art, teaching, directing, and animation.


By Daniel's college sophomore year he was working at Pixar Animation Studios and soon after found himself working in Los Angeles for the Walt Disney Animation Studios. When not working Daniel has been creating his personal work and teaching art at various institutions in his spare time. He currently is on his 3rd year traveling the world.
---
Can you pinpoint the moment you decided you wanted to become an artist?
I think I can.. I never really had much confidence in myself growing up. I knew I could draw from an early age of 6 years old. I would receive praise and the occasional "you can draw for a living when you grow up" but I never really knew what that meant. So I kept on drawing because people said I should. My junior year in high school, my art teacher rounded me and two fellow art students up and took me to a portfolio day at an art college. I was soooo skeptical. I was thinking, "me? At a college? Pfff" you see I couldn't relate to that path because growing up nobody I knew ever went to college. I didn't come from a good neighborhood. I knew more people that have gone to prison than graduated high school. I thank my teacher to this day for dragging us on a two hour drive to this "portfolio" day.
I walked in and it changed my life. I was surrounded by students who were more motivated than me, drawing better than me, and knew what they wanted. There was so much energy there! I got a few reviews from some art universities and it definitely gave me confidence that I could also be amongst these other kids. I went back home hungry and with a fire that never stopped burning. I didn't know exactly what I was going to do. But I knew that being around creatives was going to be part of it.

What made you decide to make a career of it?
Nothing made me decide that it would be a career. I never had that deciding moment. It was just the fact that anything else wasn't an option. I never considered doing anything else other than art. I absolutely believe in that when you aim all your thoughts and daily habits towards a goal, you're going to make it.
What was your 'big break?'
My big break was the Pixar Animation Studios internship at age 20. I was so green and ignorant of everything, it exposed me to a lot.
How did you land the internship with Pixar?
I landed the Pixar internship based on my 2D Portfolio Entry. I only had one piece that I felt wasn't finished or presentable. But my Instructor at the time encouraged me to apply. So I did, I applied just like everyone else with a demo reel. After I got the internship I asked why did mine make it in, and my two mentors said that it had an energy and it was evident I was animating because it was fun!

All Rights Reserved for Disney
At the time I didn't really understand what they meant. I couldn't imagine not animating something you like and that it wouldn't ever be fun. But looking back I can now see what they meant. I wasn't worried about if it was correct or if it looked nice, I was just animating for no one else but me.

You've worked on many high-profile movies (i.e. Moana, Frozen, Big Hero 6, Wreck It Ralph, Zootopia), what role did you play in their development?
Yeah it's been a wild ride I never take for granted. I animated on those films. So I guess if you look at the credits I'll be found under "animation" I started like everyone else. I started working on background characters and then worked my way up to the main and other primary characters.
All Rights Reserved for Disney
How would you explain the growth that lead to to work on main characters? Was that intimidating or a natural transition?
I'm thinking you are referring to when an animator goes from animating back ground characters to animating shots with the primary characters. Sure there is skill involved. The better your animation is the more important shots you will get. But whats more important is the animators sense of "acting". We don't only have to move the characters but we have to choose their actions. This is the key to magical believable performances.
Have a favorite? Why?
For sure it would be Wreck it Ralph (the first one). I choose that one because the studio had a huge fresh injection of new talent at the time and we were all starting on a level playing field. Everyone was friendly and so accepting. There was an electricity in the studio. We were working on a film that was so unlike every Disney film that came before it. We knew we were the forefront of a huge legacy that goes back generations so we wanted to do our best. It was also around the time I first arrived at Disney Animation Studios in Los Angeles (I was in northern California at Pixar before then) I met a lot of people I consider family and friends. I never referred to them as workmates.
All Rights Reserved for Disney
What would you say helped you become an animator at Disney?
Mentors! They helped me become a Professional Animator. School can only teach you so much. There's a lot of life lessons that you are never prepared for. Such as how to keep motivation, how not to burn out, how to navigate studio politics with grace, how to bounce back after rejection, believe in yourself, what it actually means to work with others, and how to make a presence and get/keep a job. ...just to name a few.. I wouldn't be where I am right now if it wasn't for people that went out for their way to help me out. So as i travel the world these last three years, I also give back whenever and however I can. Such as this! I'm literally typing this as I board my plane from Amsterdam to Madrid.
All Rights Reserved for Disney

Can you name a mentor that especially stands out?
Mark Walsh and Andy Beale were amazing to me. I owe them a lot. I've had other mentors such as Gini Santos and Sequoia Blankenship that had to deal with me when I was super green. Haha, I wish I could apologize to how young and ignorant I was of everything back in the day. Others that helped me out and I learned a ton from are Chad Sellers and Clay Kaytis. There are tons more I wish I could mention such as Mark Andrews and others that have had a huge influence on me as I was developing. But then this would be a very very long list.
Can you take us through a day on a project? Is it more collaborative or individual?
It's never the same day twice I'll tell you that much. I can not stress how collaborative it is.
If you go into work with a MY mentality. For example, "my" work, "my" portfolio "my" career .. you won't last long.
You have to leave your ego at the door. instead of challenging every thought you don't agree with, you try to accept and add to it with an Improving thought.
All Rights Reserved for Disney

So I'll have my shots in the film assigned to me by the director. I'll work with other animators and supervisors to make it great and check in with the director every 2-3 days. Once it is approved you go back and repeat! Tons of communication and transparency help make the process smooth. And it never goes according to plan. Sometimes the script changes, sometimes your computer crashes, or you get an artist block.. haha you name it and I've had to deal with it. Being able to adapt and problem solve is the best traits you can have to survive in a studio.
What is one thing all artists should feature in their portfolio?
First, it depends what kind of art. But if I would try to answer your question, it would be: try to inject yourself in your portfolio. Your likes and dislikes, your guilty pleasures, what makes you YOU.
A generic portfolio is a "dead on arrival" portfolio...
If my goal is to work at Walt Disney Animation- what is your best tip?
If your goal is Disney Animation I'd say you have the wrong goal. Your goal should be to do what you love for a living. When you make it a goal to work at a specific spot you run in danger of worshipping the place, the brand, the idea. You then put it on a pedestal and put it out of reach.
All Rights Reserved for Disney

At Disney there are people who do what they love. And they happened to make it to Disney because their passion and love shown through their work. And also I have to mention they worked their butts off to become some of the most talented people I've ever met on the planet. Make sure you absolutely looove what you do. Because when your motivation is backward and you've hit rock bottom NOTHING is going to pick you up other than your love of the craft. Your passion.
What do you enjoy about teaching?
I enjoy teaching because I love passing on what others passed to me. I didn't invent animation or any of the techniques I know. All the tips and tricks I didn't discover on my own. I've had the pleasure of helping people get to where they want to be not by pulling strings, but by helping them improve their skill and hone their energy and motivation in the right direction! Ive been teaching for 6+ years now. I've taught at Cal Arts and multiple platforms online. As long as there's people out there who want to learn, I'll always teach.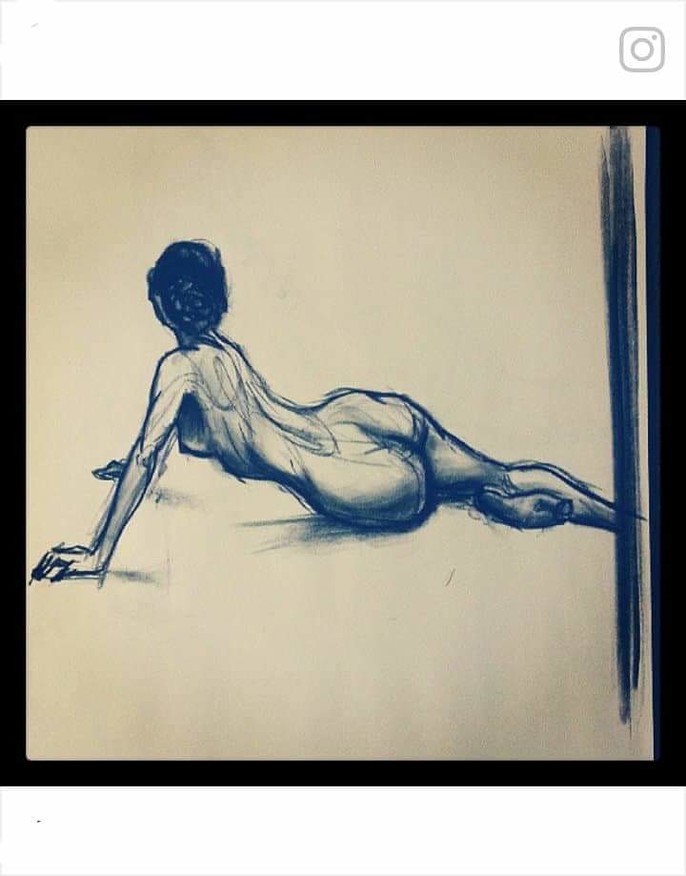 What artists inspired you?
Ashley Wood and his paintings I like a lot. It's rough yet clear at the same time. He has an aesthetic I like a lot. If I would go back to painting (it was my major in University) I'd try and paint like him.
I'm a fan of classic 80's films such as Breakfast club and Close Encounters of The Third Kind. Coen brother films like Fargo are in my catalog of favorites as well. Mad Men and Xfiles are some solid picks.. Chance, Kid Kudi, J Balvin, Lou Reed, The Beatles, and just about anything that gets your toes moving, I'll probably start dancing to it before I ever learn what the lyrics are. Taking back Sunday and Brand New are bands that are always playing on my playlist any given day. I've met a lot of artists who aren't famous that have inspired me a lot. More by their lifestyle than their work. They focus more on a work life balance than material gains. That resonates more with me than anything else.
Do you have any advice for aspiring artists out there?
My advice is that if I can make it so can you. It just as much energy to complete a small goal than it does to complete a huge goal. So aim big. Big dreams attract big people.

---
Check out Daniel's Cubebrush store and follow him here: