Lesser-Known CG Textures and How to Use Them
It's no secret that textures are an indispensable aspect of any CG art creation. Whether they're realistic or stylized, 2D or 3D, adding textures to your creation can elevate your work from a simple drawing to a piece of art. But producing textures is another art form in and of itself, which is why some artists dedicate their entire careers just to creating these invaluable assets.
And this is why other CG artists then have a plethora of incredible pre-made textures to choose from. We'll share a handful of unique and diverse CG textures to help your art come to life:
This set of ground textures includes:
6 tileable textures (full green grass, clover floor, dead leaves, dirt twigs and leaves, grassy dirt patches, and pine needles)
2K resolution TGA maps such as albedo, height, roughness, and ambient occlusion
How to Use It
These tileable textures are perfect for creating realistic outdoor environments for game creation content with speed and accuracy, and as a bonus, will help diversifiy your ongoing texture collection.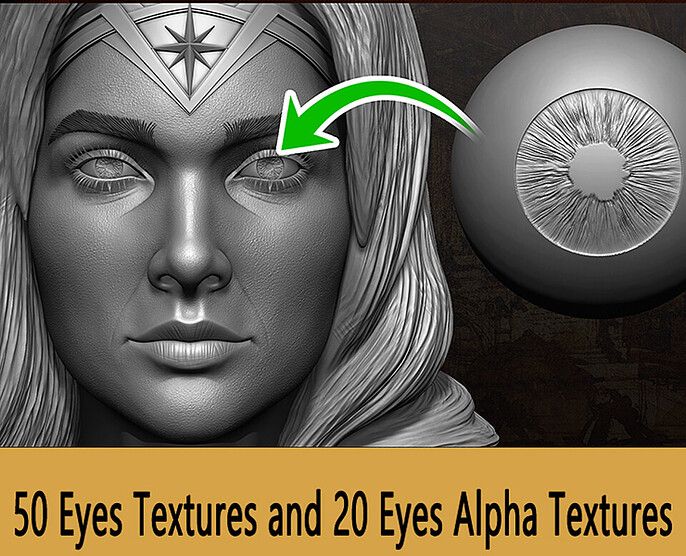 This high-resolution texture pack contains:
50 eye texture JPEG files
20 eye Alpha textures JPEG files
Eyes OBJ files
Eyes STL files
Eyes ZTL files
How to Use It
You can use this assortment of Alpha and colored eye textures to breathe life into your 3D characters. With so much complexity within the anatomy of an eye itself, Alpha mapping is ideal for achieving the precision needed to create a convincing character render.
This texture pack includes:
20 high-resolution tileable TGA files
A range of texture maps such as base colors, height, roughness, and glosiness
How to Use It
If you're a CG artist exploring the extraterrestrial, like planet creation, this pack of outlandish and beautiful textures are perfect for your needs. You can also consider mixing materials to create even more unique aesthetics.
This set of textures contains:
Large high-resolution scans of acrylic and watercolor handpainted textures tailored to digital art
How to Use It
These painted textures are great for adding complexity and detail to your illustrations, particularly for organic subjects. If you want to add more depth on a tight schedule, this is a great workaround technique for you.
With this comprehensive pack, you'll receive:
252+ stylized and high-resolution brick textures
A video tutorial illustrating their use
6 varieties of bricks, 7 primary color variations, 3 secondary color variations, 2 crack options
An array of texture maps including 252 base color maps, 12 normal maps, 12 roughness maps, and 12 height maps
How to Use It
When you're creating an entire scene, you don't always have the time to focus on tedious details like brick walls. That's where this fantastic pack comes in—this set of brick textures will accelerate your Unreal Engine and Unity pipelines in a flash.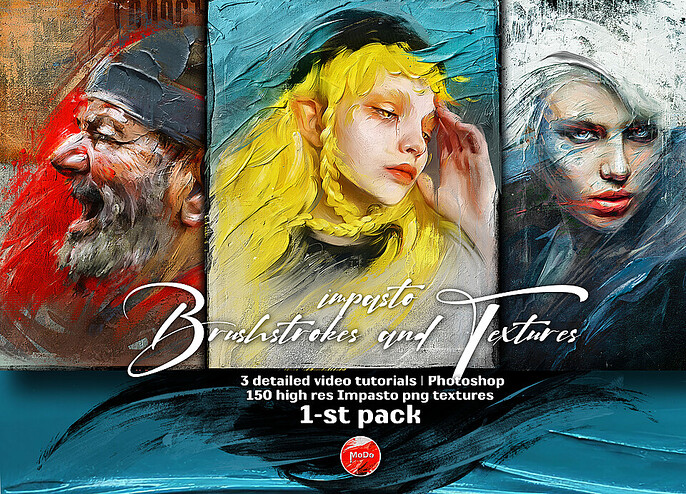 This pack of brushstroke textures contains:
100 varied Impasto brushstroke texture PNG files
50 large Impasto texture PNG files
3 video tutorials in Photoshop
3 layered Photoshop files
Thick Paint Academy chat
How to Use It
If you're after an elegant textured look for your next 2D CG art project, look no further. This tutorial pack with high-quality Impasto textures and detailed instructions on how to use them will help you achieve a professional look to your artwork with ease and speed.
In this texture bundle of photorealistic hair textures, you will receive:
4K resolution TGA files
2K resolution PNG files
3 Diffused textures (brown, blonde, and purple)
UV'ed hair card FBX/OBJ/Maya 2019 files
How to Use It
The hair textures presented in this bundle can be used universally, concentrating primarily on medium and long straight hair, a prominent feature in the world of CG. You can also change the thickness of the hair using the shader in seconds so that you can achieve the character look you're after.
This set of paper of paper textures includes:
75 4K resolution paper textures
8 bonus torn-paper textures
Ready-to-use mock-up Photoshop files
Tutorial description on use of textures
How to Use It
These paper textures can not only be used to add fine details to your 2D artwork, but can also be used in an array of other projects, such as a simple graphic poster mockup for your online client, or even to pull off displacement mapping.
Lean on Cubebrush for all your creative needs!