Substance Painter
ZBrush IMM
Photoshop CC +
Software Brushes
ZBrush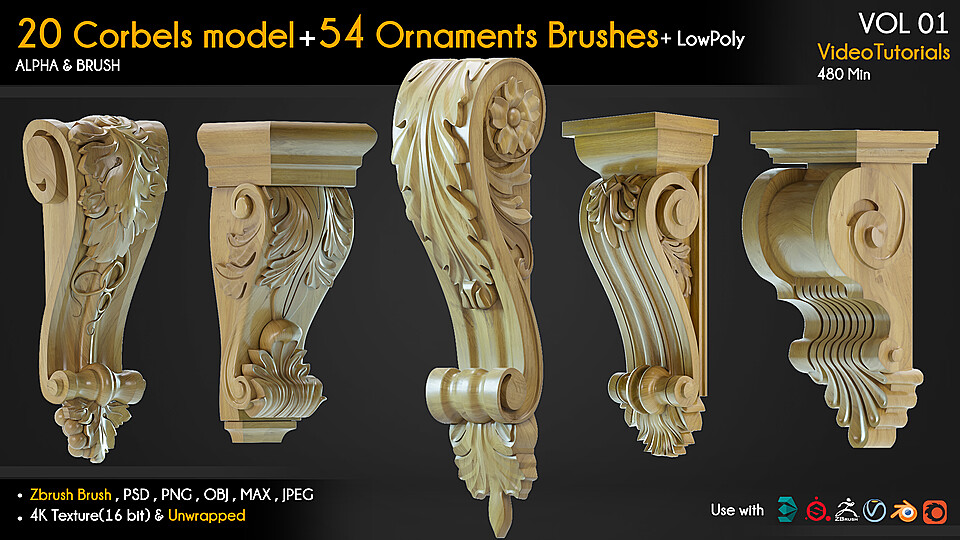 $6.0
20 Corbels+54 Ornament Brushes+Tutorials-VOL 01
20 Corbels 3D Models + 54 Ornament Brushes and 3D Models(LowPoly/HighPoly) + 11 Video Tutorials-VOL 01
This is a set of 20 Corbels 3D Models...
Expand
20 Corbels 3D Models + 54 Ornament Brushes and 3D Models(LowPoly/HighPoly) + 11 Video Tutorials-VOL 01
This is a set of 20 Corbels 3D Models and 54 Ornament alpha/brush set for ZBrush , Substance Painter,Photoshop, Quixel DDO and etc.
These brushes subdivided and work/look well at different subdivision levels , and should work with any software 3Dcoat, 4Dcinema, Blender etc.
info about this Product : 20 3d model Corbels-(LowPoly/HighPoly) 54 3d model and Brushes-(LowPoly/HighPoly) 4K ( 4096x4096) 16 Bit Zbrush Brush , PSD , PNG , OBJ , MAX ,JPEG (preview) 11 video tutorials-480min 3dmodels FBX-OBJ-MAX
all pieces has also been UV unwrapped.
Video Tutorial : I've taught you how create Full Corbels 3D models and Ornaments modeling technique. Time : 480Min Includes Project Files
Video Resolution: HD
Note : To use the ZBrush brushes you need to use at least ZBrush 2021 Max files saved 3dmax 2014 version
Minimize
You will get 6 files
All files previously purchased will always be available for download in your Library