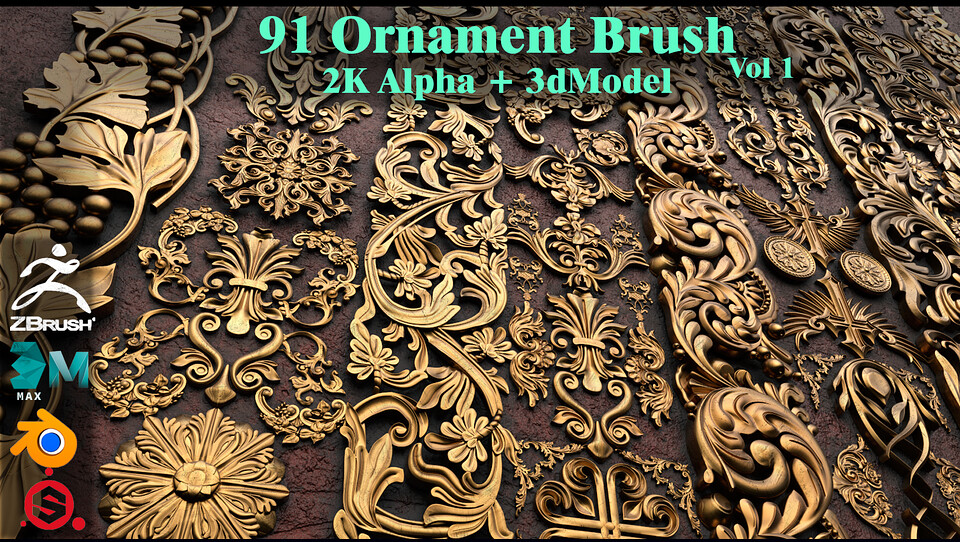 $9.99
91 Ornament Brush & Alpha & 3dModel (Fred's Vol 1)
https://www.youtube.com/watch?v=N7_nJQj5Mls
91 Ornament Brushes, 16 bit Alphas usable in any 3d software plus 3d model
Tileable Trim Ornaments.

Imm Brush and Curve Brush are available

...
Expand
https://www.youtube.com/watch?v=N7_nJQj5Mls
91 Ornament Brushes, 16 bit Alphas usable in any 3d software plus 3d model
Tileable Trim Ornaments.

Imm Brush and Curve Brush are available

2048*2048 Alpha -16 bit .

OBJ Contains HighPoly & LowPoly Model.

Max File(2017) Contains All The Lowpoly Models .
-Tif , PSD , Zbp , Obj , Max .
-All The Ornaments Created In 3dsMax.
-No UV on 3d Models (But The LowPoly Models Can Get Uv's Pretty Easily ).
If You Have Any Question Feel Free To Contact me
************ Dragon & Sword edited Link : ********** https://www.dropbox.com/s/juqw108ap7nyjx0/Dragon%20%26%20Sword.rar?dl=0 - LowPoly Models Got Fixed Thank You!
Minimize
You will get 7 files
All files previously purchased will always be available for download in your Library