Featured Interview- Atomhawk
Since 2009 Atomhawk has been working with game developers, product designers and movie studios to provide visual development and design services. Some of their incredible work can be seen in Guardians of the Galaxy, Sniper Elite 4, Mortal Kombat X, Avengers: Age of Ultron, Project Spark, EVE: Valkyrie-VR, Thor: The Dark World, Killzone: Mercenary, Injustice: Gods Among Us to name a few. Needless to say, we wanted the chance to pick their brains… and they graciously agreed to answer some of our burning questions.
Q: Atomhawk has been wildly successful in digital art and design, making you well known in the community, is there a secret to your success?
Our success is mainly down to having a really talented and dedicated team, from our artists and designers through to our management and production teams.
Everyone is committed to creating the best possible work and not compromising on quality. Since the beginning, we've also tried to take a flexible approach to the business side of things, seizing new opportunities and adapting how we operate as the studio has grown and developed.

Mike Howie: Member of the Atomhawk Art Team

Q: What are some of the biggest hurdles Atomhawk has had to overcome? Where does the company want to be in 5 years?

The biggest hurdle has probably been the continued growth of the studio. We've gone from a small start up of four people to a team of almost thirty in eight years so it's been a big learning curve and we've had to add in a lot more processes and enhance our production team to make sure everything runs smoothly and to nurture our client relationships.
In five years time, we hope we're continuing to grow and evolve alongside the entertainment industry and still working on exciting and challenging projects with great clients. We hope to develop our animation and motion graphics service on the back of some great work we've been doing recently and to continue to look for new opportunities in new markets. We'd also love to have multiple studios so we could access even more of the best creative talent from across the world.
Q: Working for Atomhawk would be a dream for most artists- what is the number one thing on an application that catches your eye?

A portfolio that looks great and demonstrates creativity, design and polish is the key to grabbing our attention and making sure an artist gets through to our interview stage.
Daniel Peacock: Member of the Atomhawk Art Team

In a portfolio, we really just want to see an artist's best work. Quality is definitely more important than quantity so the five best images is really enough. Don't be tempted to dilute your best work with lower quality pieces for the sake of volume or variety, though if you can demonstrate a breadth of skills or styles to a good standard then make sure this is evident. We predominantly work in 2D but if an artist is also skilled in 3D work we'd like to see that represented in their portfolio.
Charlie Bowater: Senior Member of the Atomhawk Art Team

Whatever you choose to include in your portfolio, sharing reference, sketchwork and progression of some of the pieces is definitely worthwhile as it will help giver a deeper understanding of your process and ability and give greater context to your work.

Q: What is the most impressive thing an applicant can say/do in a job interview?
It sounds like a cliché but probably just to be their self and to be engaged and interested in the process. We want to get a real insight into how the applicant works and how they would fit into the team so being genuine is really important.
Q: What would you say is the number one thing an applicant can do that would immediately take them out of the running for a position?

Probably coming across as arrogant or having too big an ego. We love to see someone with confidence in their skills and approach but here you really need to be part of a collaborative team and be ready to learn from others and to help others learn from you. Finding people who have the right attitude to their personal development, the clients and their fellow artists is an essential part of the process for us.
Q: Many artists are self-taught. Is having a formal education in graphic design a deal breaker?
A formal education isn't always necessary as long as the artist has a real talented and is willing to learn and develop their process and technical skills in a way that works for us and our clients.
Q: Take me through a day working at Atomhawk. Can you describe the environment?

For our artists, most of the working day is spent painting, with some time set aside for client briefings and project catch ups. At a couple of points in the day the artists will gather in the kitchen for a chat and a coffee break and over lunch there's usually either console or board gaming going on in our games room. Every Friday, the best images produced that week are shortlisted and the whole of the studio votes for their favorite to go on our Wall of Awesome. The winner is then announced in the weekly studio meeting.
Max Schulz: Member of the Atomhawk Art Team

The Atomhawk environment is collaborative and hard-working but also relaxed, informal and very friendly. Outside of studio hours, there's also plenty going on with Friday beers, cinema trips, life drawing classes, trips to industry events and the legendary Atomhawk birthday and Christmas parties!
We've just made a video about what life at Atomhawk is like so you can hear more from the team themselves here:
Q: Do the artists at Atomhawk feel that they have creative autonomy?
Some projects allow the artists to have more creative autonomy than others. Sometimes the brief from the client can be very prescriptive in terms of what they want; on other occasions the client is really looking to us to set the creative direction and lead the process.
Q: Which projects are the most fun to work on? Have a favorite?
We've just finished working on Injustice 2, a project which we worked on for three years, right through from initial creative direction to character, environment, breakout and gear design, as well as the animated character endings.
Almost everyone in the studio has been involved at some stage along the way so it's one that's very close to our hearts and we have a big studio wrap party planned to celebrate everyone's hard work on helping it come to fruition.
Q: Do you have any projects you're working on now that are especially exciting?
We're really busy with lots of exciting projects at the moment, but unfortunately we're very rarely allowed to talk about what we're working on at the time. It's usually a case of having to keep everything top secret until the product is released.
We can say, a team of four Atomhawk artists spent over a year working with Marvel, designing spacecraft, key locations and key action shots for the first Guardians of the Galaxy movie.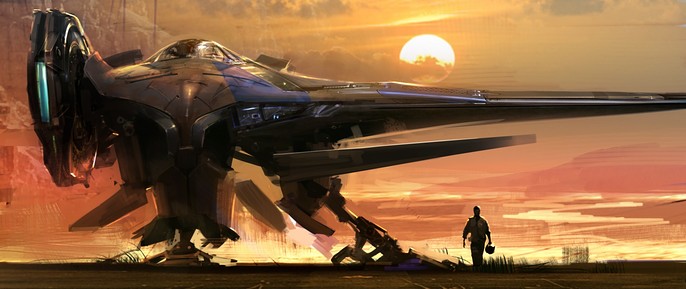 One of the most memorable experiences was the process of designing the iconic Milano spacecraft.
Q: Is there any advice the team at Atomhawk can give to ambitious artists?
Our advice would always be to keep practicing as much as you can and focus on the and subjects that you really enjoy painting. We'd also recommend seeking out resources such as books and video tutorials that will help you to refine your technical skills. We run regular Learning Lunches in the studio where the team takes turns to do a demo or presentation on one of their specialist skills sets, such as painting skin, rendering, spaceship design etc. These are videoed are then shared publicly on our Vimeo page: