Featured Interview - Colossal Order
Mariina Hallikainen of Colossal Order joined the company as the CEO in 2009. At the time PC games were believed to be dying but with Mariina's business vision Colossal Order has become one of the leading game developers. In 2015 they accepted an award for Finnish Game Developer of the Year. Luckily, she answered some questions for us- specifically about Cities: Skylines.
---

You're a relatively new company having just been founded in 2009- how did it all begin?
In the volatile industry that the games business is we are quite happy we have made it this far, to be honest. It all began with the 2008 economic crisis and the layoffs at a mobile game studio called Universomo here in Tampere, Finland. Four game developers wanted to start their own business focusing on PC platform and simulation games and asked a student with some business knowledge to join the team. The five of us then studied and researched the market with the end goal of getting to work on a city builder one day. With the lack of funding and resources we first focused on a mass transit simulator to build the company culture. In 2013 we got the opportunity to finally start working on our dream project which turned out to a successful launch of Cities: Skylines in 2015.
What were the biggest hurdles at the beginning and how did you overcome them?
We had a great team of 5 founders: a programmer, game designer, two artists and one to take on the business side. Getting the funding was a lot of work but with the founders own investments and some grants and loans supported by the Finnish authorities we managed to get small yet sufficient budget for our first game.
Attracting talent from the capital area to move where we are based was certainly a challenge, but we managed to grow the team with experienced people passionate about what we working on.
What would you consider is Colossal Order's 'big break?'
City building simulation game Cities: Skylines released in March 2015 was our big break. The game has sold over 5 million copies. Now, three years later, the development still continues.
How do you ensure the success of this latest project?
We keep developing Cities: Skylines further with new content, both paid expansions and free updates. Our newest addition to the game is called Parklife and it allows the player to create custom parks in their city. We have a great relationship with the Cities: Skylines community and keep the dialogue open for feedback and suggestions.
Did you run into any obstacles?
Growing the company has had its challenges and the amount of requests has been difficult to maintain. Basically we just had to learn to say no for most of the ideas.
Can you explain the artists involved and their impact on the development of the game?
The visuals are usually the first thing that players notice so it's an important task to make the game look great. The artists discuss the models needed with the designers and programmers and often come up with ideas that improve on the original idea. It can be quite iterative process.
When hiring new artists to the team what traits do you look for?
Interest in hard surface modeling, skills for handling architectural models and good understanding of scale. Some experience on modeling buildings and other real-world stuff also help.
Do you typically hire outsource studios/freelancers or compliment your productions with a number of pre-made assets from online marketplaces or do you tend to keep everything in-house? Why?
The more 'boring' stuff that can be made without inside knowledge of the game are outsourced so we can use our in-house artists at their fullest potential and concentrate on the bigger, more complex models.
When it comes to hiring full-time employees, what do you tend to look for the most in terms of artistic and personal qualities?
Consistency and creativity. We give quite a lot of freedom for artists to create the models as they like. Problem solving skills is a must.
Based on all the hiring you've done, what are the common red flags that artists should be careful about or work on the most?
Generally speaking, we try to understand the big picture better and understand what is important in any particular model and concentrate on that. Details are nice but the entire model has to work first.
If you had one main goal for the future of Colossal Order, what would it be?
To take over the world, of course!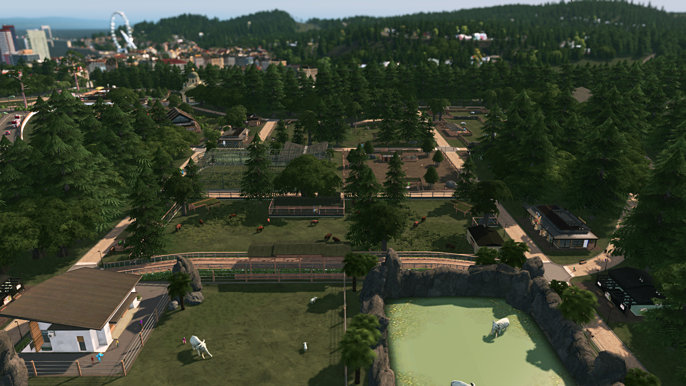 Any advice for ambitious artists out there?
Polycounts and texture sizes are important to show in the portfolio.
---
Check out more details about Cities: Skyline - Parklife.