Digital Painting Tools to Elevate Your Art
Every artist, whether a newbie or a seasoned pro, yearns for that magic wand—a tool that saves time without compromising on quality. But let's face it: shortcuts in art often lead to disappointing results. Sometimes the tool isn't up to snuff, or the so-called "shortcut" is just a finished product with minimal input from you.
We've scoured every inch of the art marketplace and hand-picked digital painting tools that give you efficiency and excellence in equal measure. Even if you're just starting your digital painting journey, now is the perfect time to start filling your toolbelt with these helpful additions. Let's dig in and elevate your artwork!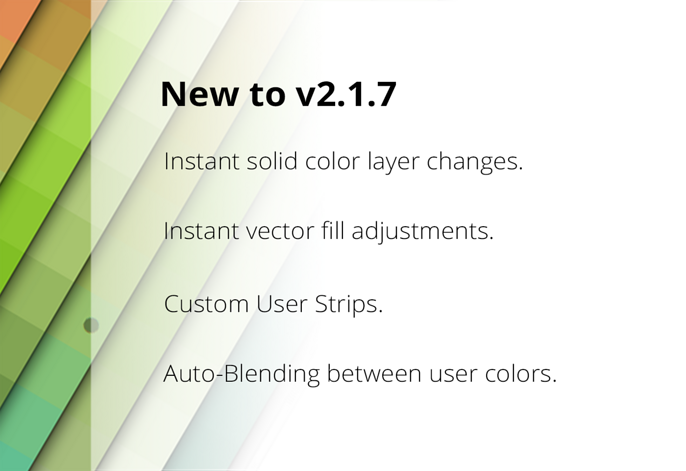 Even non-artists know that color can make or break a piece. When something doesn't fit (intentionally or otherwise), people notice. But making colors cooperate can be a laborious process. Have you ever wished that you could skip all that and your palette would just get your project's vibe?
The Chameleon Adaptive Palette does just that, offering color suggestions tailored to your current piece. And for the record, this is not just another color picker; it's an intelligent system that adapts to your artwork in real time. No more struggling to find harmonious color combos, and no more second-guessing your choices. It's like having a color consultant on retainer!
Adaptive Color Suggestions: Tailors palette hues to your artwork's mood.
Efficient Workflow: Speeds up the color selection process, giving you the right shade fast.
Versatile: Suitable for both beginners and veteran artists.
For those who've been mystified by the ethereal worlds of Studio Ghibli, this brush pack is your ticket to mimicking that magic. Designed to evoke the iconic animation studio's visual thumbprint, these brushes bring the spark of Spirited Away to every stroke. If you're a fan of Ghibli's award-winning films or simply an anime aficionado, this bundle is a must-have.
145 custom-made brushes allow you to channel the enchanting atmosphere of Studio Ghibli—without painstaking hours spent learning their techniques. The pack includes a selection of sample art pieces created using only the Ghibli-Inspired Brushes 2.
145 Custom Brushes: Optimized for both Photoshop and Procreate
In-depth Tutorials: Explore how to maximize these brushes' potential with tutorial sheets and a voiceover video tutorial.
Diverse Applications: From backgrounds to intricate details, these brushes are flexible enough to add a touch of Ghibli to any subject.
Managing layers is a big part of creating art with modern software. Many digital painting tools aim to skip steps in your workflow, which robs you of the chance to learn on your own. Enter Layer Factory: a collection of tools that revolutionize—but don't replace—layer management.
Designed for Adobe Photoshop, this rich toolset streamlines layer-based processes: creating new layers, adjusting existing ones, and much more. Layer Factory enhances everything about layer management with user-centric design and versatile functions, making it perfect for novices and pros alike.
Elevated Layer Management: Work with layers like never before: faster, better, and more flexibly.
Feature-Rich Functions: From creating new adjustment layers to converting opacity to layer masks
User-Centric Design: Every panel module can be temporarily hidden, helping you keep a clutter-free workspace.
Sketching is the foundation of many great artworks, but it's also a tough texture to convey in digital form. While many brushes seek to imitate the roughness and visceral complexity of a sketch's look and feel, few come close. For those who yearn for a true-to-life sketch, the MACALABS Sketching Photoshop Brushes can deliver.
These high-quality brushes are meticulously designed to give artists a wide range of styles without compromising on realism or depth. The MACALANS Sketching Brushes can harness the earthiness and intensity of a real drawing implement to give your next comic book illustration or figure a more grounded tone.
Diverse Brush Styles: From chaotic sketches to detailed line work, these brushes cater to all subjects and style preferences.
High-Quality and Realistic: Mimicking the essence of a physical brush or pen is no easy task, but the MACALABS brushes look and feel like the real thing.
Designed for Photoshop: These Photoshop-optimized brushes look their best when paired with Adobe's flagship image software.
Mastering perspective is a challenge that every digital painter faces, and native grid implementations on most applications leave a lot to be desired (if they're present at all). Perspective Tools v2 is a dynamic way of simplifying the complexities of perspective drawing. With just a few clicks, artists can create perspective and parallel grids, effortlessly transform layers in perspective, and even unwrap perspective distortion to a plane.
Perspective Tools v2 gives artists a comprehensive solution to all their perspective-related challenges: drawing 2D planes on an axis, capturing depth, and managing layers on a grid. Whether you're a beginner trying to grasp the basics of perspective drawing or a pro looking to shave time off your delivery date, this tool is a game-changer.
Simple Grid Creation: Generate perspective and parallel grids instantly.
Flexible Transformations: Easily adjust layers in perspective to fit your design.
Unwrap Distortions: Unpack complex perspective distortions with minimal effort.
How to Find More Digital Painting Tools
Digital painting is an ever-evolving art form, and having the right tools in your belt can make all the difference. Whether you're sketching out concept art or adding the final touches to your latest masterpiece, the helpful additions will help you elevate every brushstroke.
But this list is just the tip of the iceberg. There's a wealth of tools you have yet to discover, and Cubebrush is here to support you on your journey. We're more than a marketplace for creators to sell their assets; we're a gold mine for artists looking to refine their craft.
Dive into a tutorial or try out a new resource from a fellow Cubebrush artist today. With the right tools, the canvas is boundless.