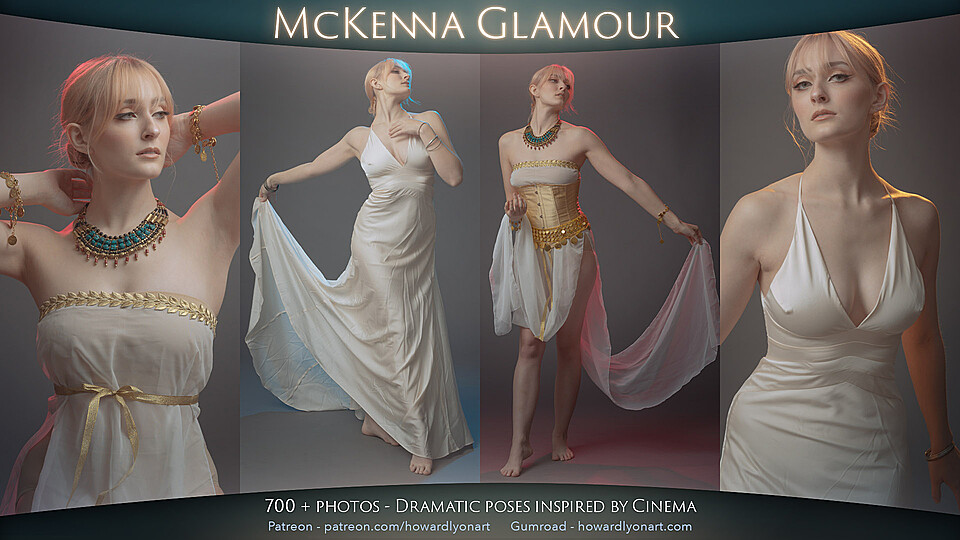 $16.0
McKenna Glamour
700 + photos - I am lucky to get to work with McKenna again for two new sets! This is the second of the two...
Expand
700 + photos - I am lucky to get to work with McKenna again for two new sets! This is the second of the two. For this set, I had two different costumes for her to wear. One is evocative of old Hollywood movie costumes like Cleopatra and Sinbad or the "sword and sandal" movies and the second is like something you'd see Veronica Lake or Marilyn Monroe wear on the red carpet. McKenna has features that would have fit right in with any old Hollywood glamour. Combined with strength and dance background and you get some really dramatic poses. I think the set holds a lot of promise for fun studies and paintings!
The images come without copyright restriction when re-interpreted into your own work, but the photos themselves may not be republished, sold, or distributed.
** If you would like to, please tag me on social media @howardlyonart when you use the reference images. I will be happy to retweet, like, and comment on your posts, but more than that it lets me share your art with the model!
Minimize
You will get 1 file
All files previously purchased will always be available for download in your Library