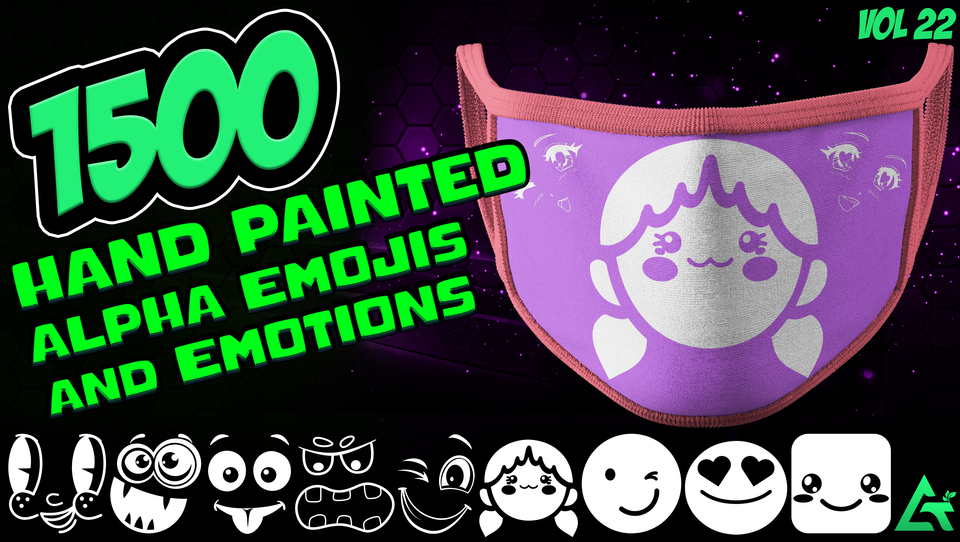 $30.0
1500 Hand Painted Alpha Emojis and Emotions-Vol 22
◻️ Standard License - 80% OFF: Full Package Included with 80% Discount! (The original price of this product is $30)
❤️ We put this license and commercial license with a super amazing discount to help all artists and people who have financial problems or can't buy the product at a higher price.
◻️ Standard License (Original Price): Full Package Included with original price - To support us, you can buy this license at the original price.
---
So we gave you the option to decide how much to pay for it. you are free to buy any license you like!
---
🔶 This Mega package is the largest, most unique, most complete, and most diverse collection of practical and high-end quality 4k of Hand Painted Alpha Emojis and Emotions that you can have. Having this Mega collection to increase your library and bring these cool elements to your work. Use this pack to quickly add creative details to your objects such as your modern interior and exterior structures or architecture, buildings, places, environments, Graffiti walls, characters, clothing, equipment, and many other things that you know about it! for your Modern projects (Stylized or Realistic!) Can be used on any software that supported alphas and png files like ZBrush, substance painter, substance designer, blender, 3dsMax, Maya, 3D Coat, Marmoset, Modo and, etc...
🔻 This product (vol-22) includes:
• 1500 Hand Painted Alpha Emojis and Emotions
• Our Special Gift for You (to appreciate)
🔻 Details:
• SVG (Vector Files)
• PNG / 32bit
• Resolution: 4K (4096*4096) High-End Quality
• There are PDF catalogs for Preview
• Each one is neatly arranged in folders with own names
+ Increase your library functionally once and for all!
+ The best cute and funny alpha resources
- The models not included!
🏆 If you need more cute designs, we highly recommend the largest package of Cute resources to complete your library:
✔️ As you know, one of the most important features of our products is originality and made by our designers! What we see a lot nowadays is the existence of many similar products in the form of copies and copyright problems! Many buyers do not pay attention to the problem of having copyrighted designs!
✔️ We paid our designers for each of our designs! So about our alpha resources, It is original and exclusive from Art Talent Studio! Once and for all, make the best possible choice and use our products with peace of mind!
---
we hope to have the honor of hosting your excellent reviews and ratings, Thanks in advance!
---
I recommend my MEGA Pack products, which can be strong complements for your library! if you want more, links below:
If you looking for seamless and tileable patterns that i suggest to you links below:
---
You will get 2 files
All files previously purchased will always be available for download in your Library