Props
Hard Surface
Unity
PBR
Game ready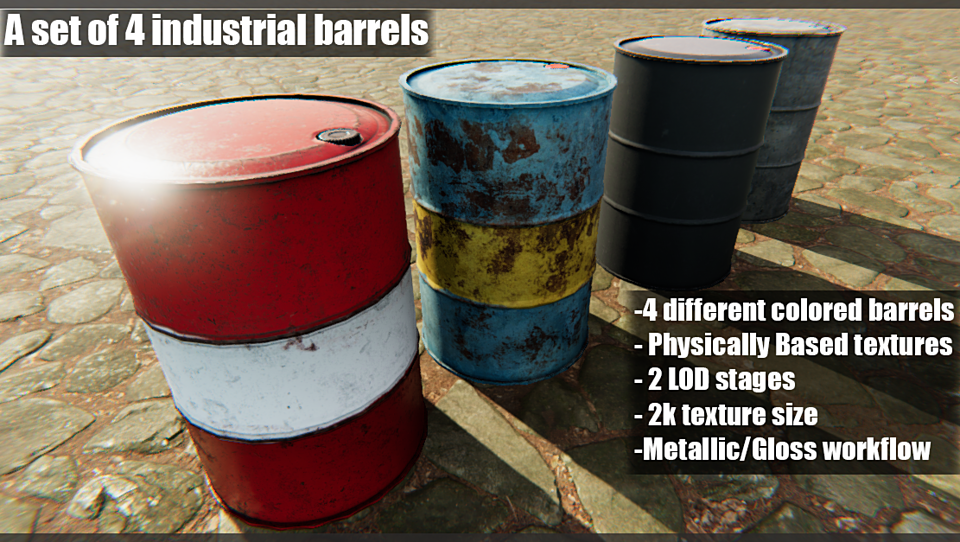 $1.0+
4 Industrial barrels
A set of 4 different coloured barrels.
The package contain 4 variations of a single barrel. All with unique textures including Normal/Gloss/Metallic. Specially made for Physically based shading( Unity 5 )
The following variations are included: - Rusty Blue/Yellow - Clean Plastic - Red/white - Rusty White
Textures are made for a metallic/gloss workflow. The glossiness is stored in the alpha channel of Metallic textures.
Prefabs come with 2 LOD stages for optimization.
LOD0 = polygons(1154) Vertex(586) LOD1= polygons(556) Vertex(287) LOD2=polygons(102) Vertex(60)
Texture Formats are TGA and come in 20482048 resolution. Can be change to 10241024 and still look decent.
You can also get the models and textures if you don't have Unity. A separate folder is made with only the models and textures.
Models are FBX and OBJ format. Ground texture is not included ! You can download it from textures.com
You will get 2 files
All files previously purchased will always be available for download in your Library