Characters and Anatomy
3ds Max
Fantasy
Blender
UE4
Clothes
Game ready
Base Meshes
Rigs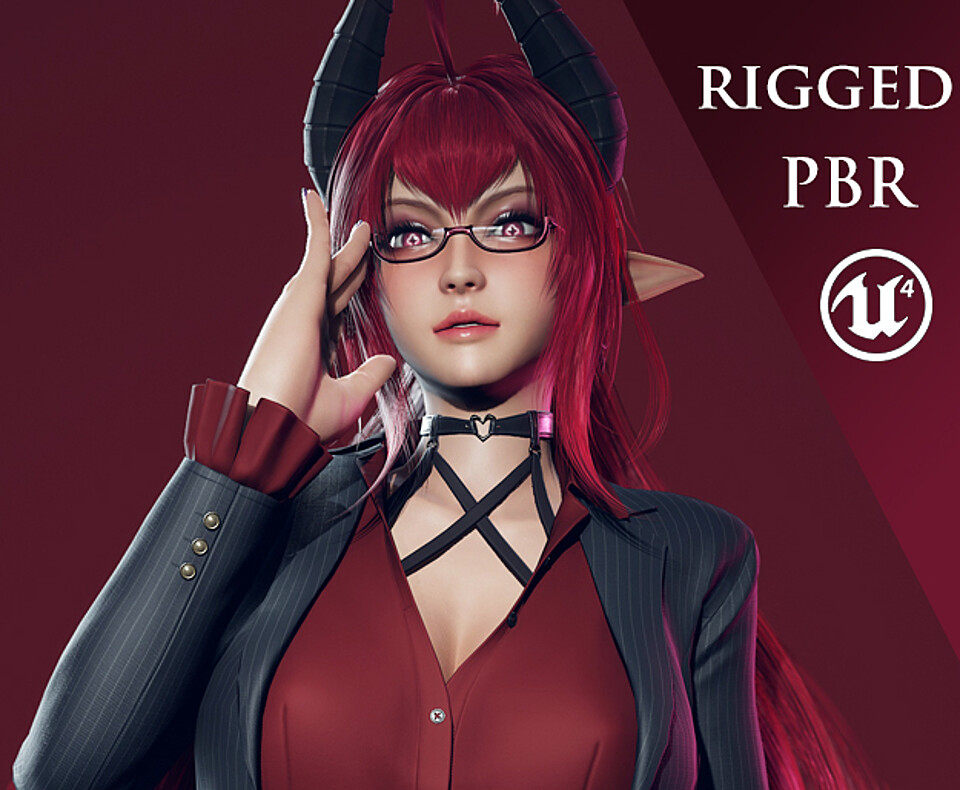 $45.0
Daemon Girl - Business Suit
Product name: Daemon Girl Business Suit - Game Ready
+Low poly, game ready, rigged, PBR textures. Include nude body mesh. UE4 supported, ready to import...
Expand
Product name: Daemon Girl Business Suit - Game Ready
+Low poly, game ready, rigged, PBR textures. Include nude body mesh. UE4 supported, ready to import into Unity.
+Full Nude body with lingerie set and modular clothing parts (Shirt/Coat/Skirt/Heels/Glasses). Have morphs/blendshapes/keyshapes to fit body mesh with each layer of clothing.
Total tris counts: 130168
+Unit: centimeters. Model Height: 174cm (with heels) 185cm (including horns)
+FBX folders contain full meshes and modular parts.
+UE4 project with playable character blueprint and physics.
+Packaged .blend file. Fully rigged with AutoRigPro. Blender version 3.0
+Skinning in 3DS MAX, full body rig and basic facial rig.
+Facial expression morphs. Based on Apple AR Facial Blendshapes.
+PBR textures (Metallic-Roughness) 2048X2048 and 4096x4096. DirectX Normal Maps. .TGA format.
Textures can be found in this folder: RyanReosDaemonGirlBusinessSuit\Assets\Textures
+Include Marmoset files with material and studio lighting setup.
Buy One get One! - Include download link for original Daemon Girl model!
If you already bought Daemon Girl - Game Ready, you can check back the product page to get the download link of this version for free.
Enter the code "easylovers" for 30% off any purchase of my products. Thank you for supporting my works!
Visit my Patreon here for more erotic images and character models: patreon.com/RyanReos.
Ryan Reos.
Minimize
You will get 3 files
All files previously purchased will always be available for download in your Library